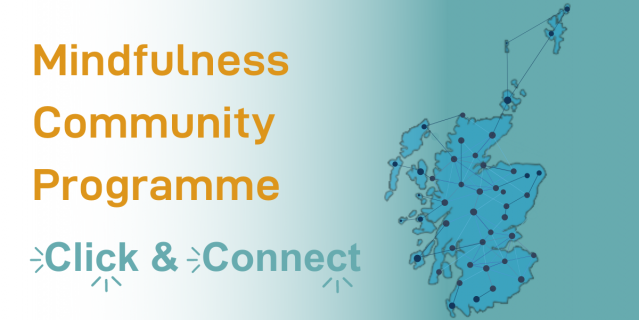 Following the successful Mindfulness programme in 2020, Jonny Drury will deliver Dialogica's new 10-week programme and will take Mindfulness activities to the next level.  The programme will place more emphasis on practice and support the creation of a community of mostly autistic mindfulness practitioners. The group will take place every Tuesday morning from 19th April until 21st June (excluding 17th May). Each session will run via Zoom and are free to join.

Target Audience:  Autistic individuals and supporters e.g. family members, friends or otherwise - all welcome. 
Must be age 18+ years and live in Scotland.

Common challenges typical in autism, such as stress from social interaction and sensory overload is addressed in all of Dialogica's work, which shares a vast common ground between the ethos, language and practice of mindfulness. Dispute, division and violence is because of a deep and pervasive defect in the process of human thought (Bohm, Factor, Garrett, 1991) and traumatised people, leading to stressful societies and environments. 
Mindfulness and raising self-awareness has always been guiding principles of Dialogica's dialogue and coaching work in the field of autism. Outcomes for individuals have notably included reduced anxiety and stress, better relationships in daily life, increased sense of community and empowerment and developed identity.
A regular mindfulness practice, supported by a fellowship, can also support and frame the search for belonging and inclusion.  The search for selfhood and the need for a calmer, less fragmented life can be achieved by living a mindful and more natural lifestyle.  
In Dialogica's dialogue work, there is also increased empathy and understanding among parents, academics and professionals, leading to further improvements in cross-cultural cohesion and reduction of miscommunication and misunderstanding across neurological differences.
Content
A holistic mindful lifestyle that incorporates mindful stillness, mindful movement (chi-gong and yoga), body, mind and emotional attention, compassion, healing and healthy diet, relationships, learning and community, can directly address and counteract the negative impacts of autism and modern living.  As a mindfulness group facilitator, Jonny Drury, himself diagnosed with Asperger's and ADHD, intuitively addresses the needs of the group participants in a semi-structured way, using guided mindfulness meditation as the vehicle to self-discovery, healing and wholeness. As a regular group and solo practice, encouraged via remote learning and direct communication available with the facilitator, the benefits of a strengths-focussed mindful lifestyle aim to reduce the impact of stress, isolation, confusion and fragmentation.
Sessions will consist of a facilitator's talk on the various aspects above, a guided meditation and a Q&A style section.
 
Group Information
Attend as many sessions as you can.

Be on time otherwise you may miss an important part of the session. The waiting room will be open from 9.50am.

Find a quiet space to sit where you won't be disturbed.

If you are comfortable, cameras are better on so the facilitator can see you, therefore improving non-verbal connection.

Interactive part of the session (around the last 15-20 minutes) put your hand up and wait to be invited to speak then be ready to unmute your microphone.

Get a new notebook to write down your reflections during the time between sessions.

An open mind, willingness to learn and a little patience.
Technical Information
You require an internet connection on a computer or device with speakers and a camera.

Zoom can be accessed through a web browser, however the downloaded version will offer a better experience and more functionality.
About the Host 

Jonny Drury is an experienced meditator and has practiced many methods of meditation and holistic health from an early age.  He is a MBLE (Mindfulness Based Life Enhancement) practitioner, a certified coach and specialist mentor, working mostly in autism and neurodiversity.  He encourages meditation as part of a whole system of self-care, well-being and personal and professional development.
Date
03rd May 2022 to 03rd May 2022
How to book
General Enquiries
Time: 10am to 11am
Date: 3rd May 2022
Location: Online
Free
Register
Please note that you can now book sessions in advance. You can also pick and choose which sessions you would like to attend in block 5.


Please email any queries to events@scottishautism.org

Meet the Host in our short video

Jonny describes what you can expect when you join the Tuesday morning Mindfulness Community Programme.