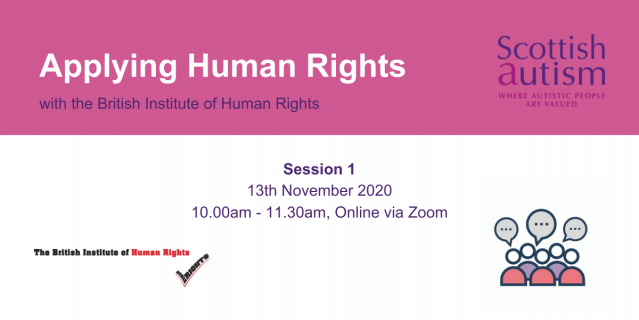 Session 1 - Applying Human Rights with the British Institute of Human Rights
This session is for parents and family members of an autistic person focusing on the Right to Education during Covid-19. ​ 
During this free event, the British Institute of Human Rights will share knowledge supporting you to use human rights law in interactions with public services and other bodies providing care, support and education during Covid-19 and beyond.   
13th November 2020, 10.00am - 11.30am, Online via Zoom 
The session will cover:
Human Rights law in Scotland - How does it work? Who has legal duties?  

What rights are you/your family member/someone you care about covered by in Scotland.   

What does this mean in practice - BIHR will use real practice based scenarios focused on right to education and to non-discrimination.   
Date
13th November 2020 to 13th November 2020