Your donations and fundraising activities help us to reach and support more people living in Scotland with autism and their families.
Here is what your support means...
Autism Advice Line
"I did not fully understand it [autism] nor did my family.  It was a great relief for everyone to talk to someone who understood this disability. Their practical advice has helped me to manage problems so I am coping better, I am mentally stronger and not on anti-depressants.  My family has a better insight and now understand that I need space."
Elaine Jenkins, 58 year old Grandmother
The Scottish Autism Advice Line responds to over 1,400 calls every year, and this is on the increase.
The advisors are with you until you have the support you need.  
Equipment 

'Many of the people in Clannalba cannot go out into the community to access places like the gym. My plan is to raise as much money as possible so that my service can put an outside gym in place so people can keep up with their fitness and burn some of their excess energy! Please help me make this possible for the people in my service.'  Teag is one of 45 people who attend our Respite and Short Break service Clannalba near Biggar.
Your donations help us to provide additional equipment that can enhance the lives of those we support - these include communication aids, sensory equipment, specially adapted furniture and improvements to outdoor areas.  
Social and Creative Pursuits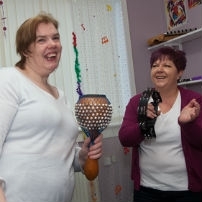 Your donations can give the individuals we support a better quality of life, providing social groups, cookery classes, drama, art and music therapy. These activities give individuals the opportunity to be self expressive and socialise with others.
The individuals we support have put on amazing productions like the 'Wizard of Oz', and produced a book of their own short stories and poems.
Knowledge Share Seminars
Help us further develop and expand our Knowledge Share Programme: a series of seminars help throughout Scotland.
These seminars are a means of disseminating our knowledge of autism and effective practice with others, and donations would help us add to the programme and increase the locations we visit.
Find out more about our Knowledge Share Seminars
"Very informative, enjoyed the video footage, excellent insight into independent living for people living with autism." Seminar attendee
Right Click Programme
In 2013, thanks to generous donations, we launched an online parent support programme called Right Click which has benefitted over 900 families. We have drawn on the wealth of experience from across our services, as well as that of other professionals, to develop over 50 videos and a range of support materials.
The support from the Advice Line has been amazing. I don't know what we would have done without it. We felt there were so many obstacles to getting support and nobody was interested in helping us. The advisors answered all our questions and pointed us in the right direction for help. We will continue to use the Advice Line - it's a lifeline for us.
Grandparent
It helped me understand autism through my son's eyes.
Parent
It made me feel less alienated knowing that many parents have encountered difficulties helping their child with typical things such as dressing and toileting.
Parent