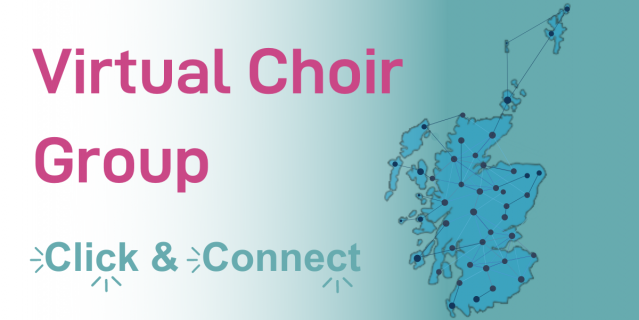 Come along to our Virtual Choir taking place every Thursday from 14th July until 22nd September, 5pm until 6pm.

Target Audience: Autistic people and their families in Scotland, and all ages and abilities welcome!
This group is open to all ages, however if your child is under the age of 18 they must be registered using a parent/guardian's email address. Children under the age of 16 should have an adult present during the session.

Numbers will be limited to a maximum of 12 people so sign up quick!

Share music with others in a fun, no pressure environment. People listen to music for many different reasons, it can help you connect to your emotions as well as other people. Music is the one universal thing that connects us all around the world. We hope this group will help you feel less isolated, enhance your wellbeing and develop your confidence.
We will learn a range of songs over the sessions.
Here are some of the benefits you might experience from joining the group:
Reduce stress

Connect with emotions

Improve memory

Improve motivation

Meet new people/build friendships

Improve breathing

Have fun
The group format will be as follows, although this may change slightly from week to week:
Introductions/quick catch-up

Warm up vocal cords

Introduce song

Chat

Keep discussions civil

Do not be afraid to ask questions

Respect your own and others' viewpoints​
Technical
Join in as many sessions as you like, the more the better!

The sessions will run via Zoom, you will need a computer or device with good Wi-Fi

Cameras and microphones are preferred but not compulsory
About Claire


Date
28th July 2022 to 28th July 2022
How to book
General Enquiries
This is Block 6 of the Virtual Choir Group
Time: 5pm to 6pm
Date: 28th July 2022
Location: Online
Free
Register
Please note that you can now book sessions in advance. You can also pick and choose which sessions you would like to attend in block 6.
 
Please email any queries to events@scottishautism.org

Meet the Host in our short video

Claire describes what you can expect when you join the Thursday evening Choir Group.