Meet Emily
Services & Support/ Adult Services/ Supported Living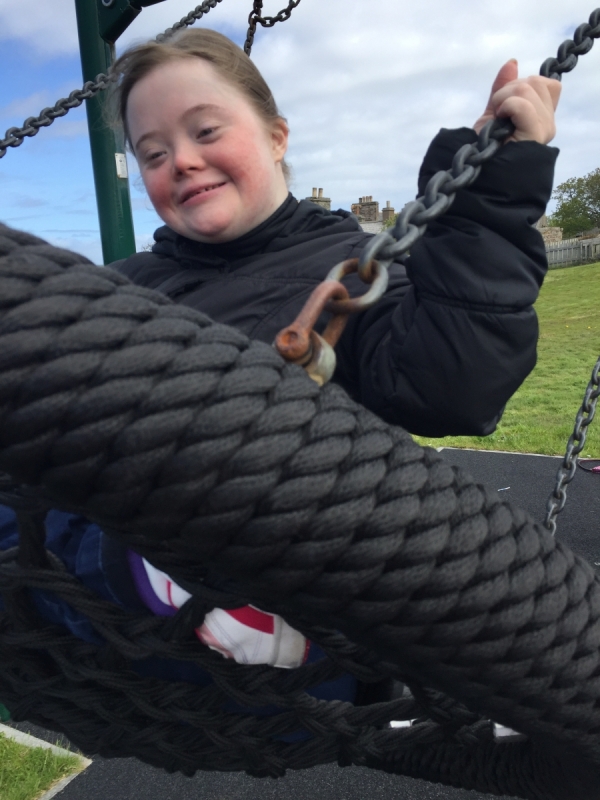 Emily accesses our Supported Living service in Orkney. When she first came to our services, Emily struggled to communicate with staff, and she was reluctant to try new food and activities. She needed a lot of encouragement, support and prompts. However, over the last few months, Emily has made considerable progress.
When she moved into her house, Emily needed support to carry out routine tasks such as making breakfast in the morning. Initially staff would give her prompts on what to do and use a hand-over-hand technique to help her prepare the toast. Emily then progressed to using PECS (Picture Exchange Communication System) whilst doing her toast routine but now she requires minimal input from staff, and she is very happy when making toast on her own.
Another big improvement is that Emily is now comfortable with staff doing her hair. She was always wary of people touching and brushing her hair. However, with a consistent approach from staff she soon became comfortable. Now, not only can staff brush her hair but Emily has seven different hair styles to pick from each morning, and will happily sit down to let them do it for her.
As well as these achievements, Emily has made huge progress in terms of being able to go shopping and use the self-scan check-out; putting on her seat belt in the car and washing her dishes. With some encouragement, Emily is even happy to try new activities. Thanks to a strong well-bonded team behind her who have been consistent in the way they support her, Emily has become a more confident and independent young woman.
Meet Michael
Services & Support/ Adult Services/ Outreach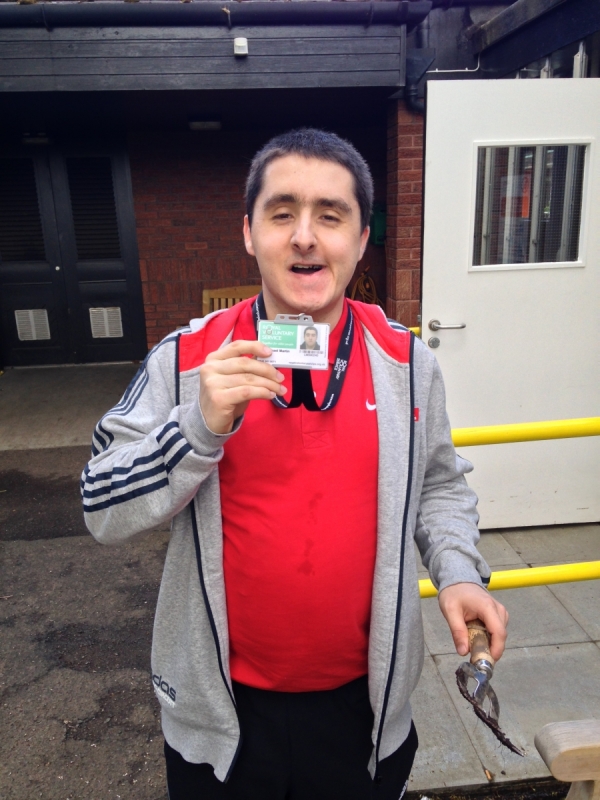 Michael is a young man who is supported three days a week. Two days are spent at our vocational service, Art Opportunities in Alloa and on the third, Michael is supported on an outreach basis to access his local community. The purpose of Michael's outreach support is to source activities that he would enjoy. It became apparent however that Michael struggled with abstract decisions especially when they were presented verbally, which led to increasing frustration when he couldn't communicate what he would like to do.
Through consultation with Michael and his parents, a visual timetable was developed that could support Michael to make choices regarding his outreach support. Michael is in charge of selecting activities and sourcing images from the internet to represent what he would like to do. These images are then stored in a file that Michael can use when planning his day. Through this process Michael was able to communicate to us his desire to have a job, and staff soon set about sourcing suitable volunteer opportunities.
A placement with the Royal Voluntary Service at Falkirk Community Hospital was found. Michael became involved in their cafe and helping to maintain the community gardens. Through this opportunity, Michael has grown in confidence and his ability to make decisions in his day has improved considerably. He has also become more confident in communicating his wishes to staff. He still uses the visual timetable to plan his day and to support him with what is happening next. Michael's social skills have developed, and he has become a key part of the volunteer team, as well as his wider community.
"Michael has continued to grow in independence since attending Scottish Autism three years ago. He joined the Royal Voluntary Service last year with the support of Scottish Autism staff and he continues to receive rave reviews from the people he works with. He works in the community hospital café and is a great asset to them. He was even invited to their annual dinner where he chatted amicably and animatedly to his peers the whole evening! He is becoming a young man and more importantly is extremely proud of himself," says Michael's Mum, Julie.
Meet Matthew
Services & Support/ Children's Services/ Transition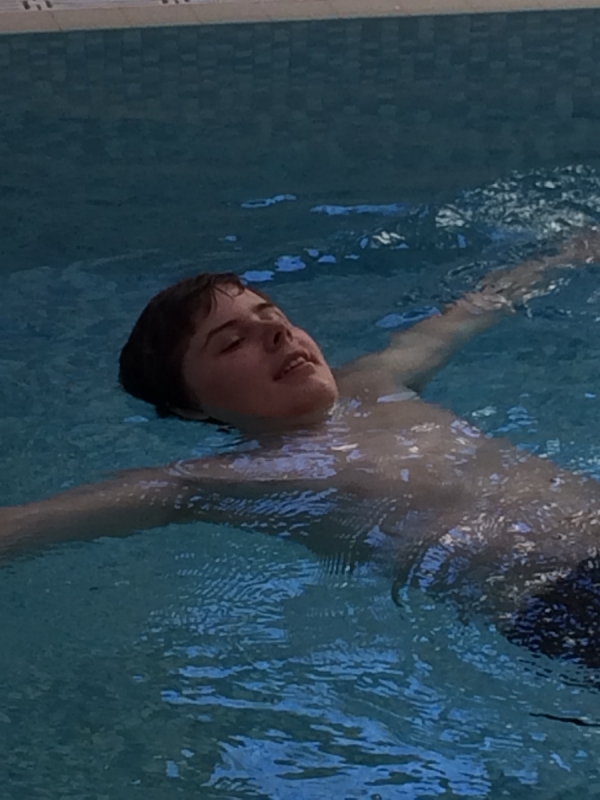 Last summer Matthew was going through a difficult period in his life. After leaving school, his stress levels were high and he expressed this through self-injurious behaviour and aggression towards his immediate support staff.  Matthew was assessed and offered a placement on a 2:1 basis during the day, and 1:1 basis during the night. This would be a major change in Matthew's life but it was agreed that New Ridgepark would best meet his current needs. Matthew had lost a lot of his basic life skills and had not accessed the community for a long time.
Prior to moving in, a dedicated staff team with the best skills to support Matthew were identified. Regular meetings were held and a support plan and a stress reduction plan were developed. Matthew needed to have a highly-structured routine to allow environments to be predictable and to build on feeling secure. A Now and Next communication board with symbols that were familiar to Matthew was used to help minimise his stress levels by pre-empting the day ahead. Matthew enjoyed touch and the presence of others but when he first arrived he required two staff to sit next to him at all times. His dependency on staff was gradually reduced with the introduction of 'weighted' sensory blankets allowing Matthew to become more independent.
 Matthew has had access to a multi-disciplinary team which in turn has ensured a holistic and joint working approach in meeting his needs and improving his quality of life. Through the constant review of Matthew's care, he has gone from strength to strength. His stress levels have gradually decreased and he is able to cope well with new opportunities which are pre-planned and communicated to Matthew using his preferred communication method. Matthew can now enjoy his favourite activities such as swimming, trampolining, walking and accessing the community. He is developing good independence skills ranging from making breakfast, making his mum tea, doing his own laundry and making snacks. This is just the beginning of Matthew's journey.
"Since Matthew has been at New Ridgepark they have worked with him in a completely autism-specific way and understand who he is as a person. They also support me as his mother very well. It is the hardest thing in the world to have to send my little son away from home but I am confident that Matthew is in the right place to help him overcome his crisis and continue to grow and learn. My clever boy can now vacuum a room, help do some cooking, make tea, wipe tables, do his laundry and clear his plate after he eats.  It is lovely to see him taking part and being as independent as he is able to be," says Matthew's mum, Linda.
Meet Donald
Services & Support/ Adult Services/ Day & Vocational/ South West
Donald, a young man we support at New Ridgepark, our bespoke transition service, undertook a new venture last year which has seen him flourish in terms of his independence and confidence. He began working at our nearby vocational opportunity, Cafe Kudos in Carluke.
It was Donald who first communicated that he wanted to start working at Cafe Kudos and so he was introduced gradually to the service, beginning with one hour and building on that each week. A gradual approach was taken because Donald can become overwhelmed by new environments, new people and tasks.
 On his first day, Donald was given a Social StoryTM which explained to him each step of his day, from walking to the bus stop to what he would be doing when he got home after work. This gave Donald a good understanding of what was expected of him and how the day would progress, meaning there were no surprises. As a result, his first day went extremely smoothly, and he got involved in lots of different tasks within the cafe.
Over the course of a few months, Donald gradually built up the time that he spent in the cafe. In November last year he told his support staff how much he enjoyed working there.
Through taking on this new role, Donald has learned lots of new skills, such as using the coffee machine, operating the till with some verbal assistance and taking money and giving change. Although he does require some support, Donald has achieved a great level of understanding and independence, often using his own initiative to clear tables when customers leave, take dishes to the kitchen and load the dishwasher.
By challenging himself to take on this role, Donald has greatly increased his confidence. He loves showing everyone how much he enjoys his time at the cafe, using photographs to communicate this during a recent review meeting. The terms 'Social Story' and 'Social Stories' are trademarks originated and owned by Carol Gray. All rights reserved.
 "Our son is supported by Scottish Autism. The work of the staff there has enabled our son to cope with travelling to London by train for his twentieth birthday, with his dad and me, to stay overnight, sightsee and go on the Tube! We are so proud of what he has achieved and for the input of the staff in Lanark," says Donald's mum, Lesley
Meet Robin
Services & Support/ Adult Services/ Day & Vocational/ Fife
Robin has been supported by Scottish Autism for 20 years this October. He originally lived in one of our group homes with four other individuals. He also attended day services in Cowdenbeath. In 2003 Robin moved into his own tenancy in Cowdenbeath where he continues to live supported by Scottish Autism. Robin now attends our day opportunity in Dunfermline four times a week.
Over the years Robin has been very frustrated with the fact that he has autism and would regularly ask people if they thought that there would ever be a cure. He would get quite despondent when the response was not what he wanted to hear. He suffered from mental health issues which had a big impact on his life. Robin often felt that he had very little control and this would cause him a lot of stress.
Recently staff worked with Robin to enable him to feel more empowered, and this has really improved his self-esteem. Robin put a lot of focus on when he would be able to go on holiday, but always felt very dependent on staff as to whether he could achieve this. He also had difficulty managing his weight, with a great fondness for sweet foods.
Both day service staff and home staff worked closely with Robin to give him more control of his life. Through discussion with staff, Robin set up a system where he independently saved money specifically for holidays.
Robin was then able to plan where to go and work out how much money he needed to save. This gave Robin great satisfaction as his holiday choices were not dictated by staff and arrangements were made dependent on his finances.
Staff also worked with Robin on his healthy eating plan. He really loved puddings and he was able to choose to have one every day and agree which sweet things he was happy to give up in return. Robin has now lost nearly a stone in weight and he is very proud of this achievement. These changes have had a huge impact on his mental health and Robin says that he is really happy with his life at the moment.
Within day services Robin is very sociable and enjoys the company of others. When asked why he continues to access the service after all these years, he says: "I get to meet up with my friends and have some fun."
Robin is part of a gardening squad who do gardening for our other units, when asked why he did this, he says: "I really like helping other people and the service users can enjoy the garden." Robin also enjoys being part of our communication group and he said this group has allowed him to talk about his life and his feelings.
Overall this has been an excellent year for Robin. He has arranged three holidays: a week in Portugal, a camping trip and a trip to Centre Parcs with a friend and staff. These changes for Robin have been achieved through collaborative working with Robin's housing support staff and day service staff.
Robin has passed onto staff that he is very proud to have been chosen to feature in this Annual Review and that he feels very special.
Emily is a lovely, charming, happy and beautiful girl who is gaining more independence and confidence each day.
She enjoys the little things in life like her DVDs and slinky, but when it comes to swimming and the play park, these are her favourite activities.
The staff are confident that she will continue to go from strength to strength, and we all look forward to supporting her to achieve even more.
Keira Nicol, Autism Practitioner.