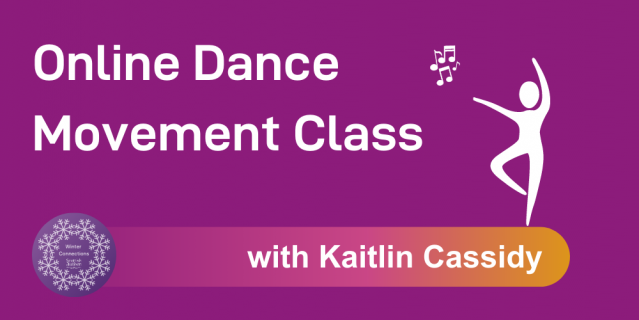 Do you have a passion for dance or enjoy moving to the beat? Come along to our Online Dance Movement Class, every Sunday at 11am - 11.30am, running until 4th April.
Target Audience: Suitable for autistic children age 7-12 years in Scotland. Parents or a sibling are welcome to join for support/encouragement!
Requirements: Comfortable clothing, a bottle of water and a safe space to dance.
An inclusive dance movement class which aims to build confidence, strengthen co-ordination and allow individuals to connect with each other through movement in a safe and nurturing environment.

About Kaitlin (RAD RTS AISTD)

Kaitlin started dance classes at the age of 3 which allowed her to develop a passion for the art at a very young age.  For as long as she can remember, she has always wanted to become a dance teacher so that she could share her passion and knowledge with others. Kaitlin has always been keen to share her love of dance, knowing the joy it brings to those that participate in any dancing activity, no matter their experience or ability. Her goals as a teacher are to build the confidence of every dancer she works with. She strives to provide a nurturing and safe space for dancers to express themselves and to help each individual reach their goals while having fun and keeping active.
After dancing throughout her school years, at 17, Kaitlin successfully auditioned for 'Dance For All' in Edinburgh. She gained a place on the Professional Dance Performance & Dance Teacher course and undertook this course for a period of two years. Following this, she completed her Diploma in Dance Education with the Imperial Society of Teachers of Dance, and gained a Certificate in Ballet Teaching Studies with the Royal Academy of Dance.  Kaitlin has added to her achievements by becoming both Acrobatic Arts and Progressing Ballet Technique certified. Her studies demonstrate her continued commitment to developing her skills and craft so that she can be as effective as possible in helping those she teaches to learn and grow as dancers.
You can follow Kaitlin on Instagram: 
@kaitlincassidy_dance
This Dance Movement Class is part of our 
Winter Connections
 project to allow the autistic community to stay connected through the winter months. Being active can be great for your wellbeing and health. Through dance we can stay connected, even if we can't in person. If you find yourself alone or isolated during lockdown and want a way to connect with others then register and join the group. 
Date
07th March 2021 to 07th March 2021
How to book
General Enquiries
Fully booked

Time: 11am - 11.30am
Date: 7th March 2021
Location:  Online (Zoom)
Free

Please email any queries to events@scottishautism.org