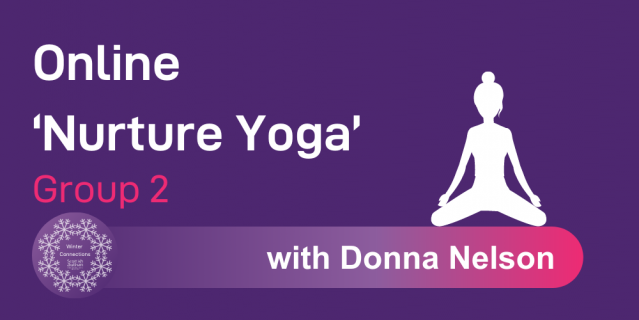 Group 2
Come along to our new online 'Nurture Yoga', taking place weekly, beginning on Thursday 11th February until 18th March (6 weeks).

There is an expectation for families to attend all sessions in group 2 to get the most out of this Nurture Yoga.
Spaces are limited to 8 families per group.

Target Audience:  Autistic children and their families.
Requirements: Comfortable clothing, a bottle of water and a yoga mat (if you have one) or a towel.

Nurture Yoga helps autistic people to reduce stress and anxiety and to reach a place of calm. This in turn can increase self belief and confidence.
'Nurture Yoga' practice can help:
Reduce stress and anxiety

Improve self-awareness in both body and mind

Improve motor planning and control

Improve immune function and the quality of sleep

Develop balance and the ability to relax

Develop the ability to self-regulate across environments and demands

Develop coping strategies to help in stressful and anxious situations

Overall improve mental-health and well-being holistically

Develop flexibility and co-ordination

Helps to instill a feeling of calmness
Donna believes that as she supports individuals in working with their challenges and building their confidence and self-esteem, she can also help individuals to recognise their strengths and abilities allowing them to self-regulate and take what they have learned in the yoga sessions out into other environments, which allows individuals to celebrate their unique inner light, and to shine that light brightly for all the world to see.
About Donna

©Nurture Yoga with Donna Nelson: RYT Yoga Teacher and Special Needs Yoga and Mindfulness for Autism and ADHD Practitioner. Signatory of Scotland's Mental Health Charter for Physical Activity and Sport. Public Speaker.
How to book
General Enquiries
THIS IS NOW FULL

Group 2 taking place on Thursday's: 
February: 11th, 18th, 25th 
March: 4th, 11th, 18th 

Time: 4.30pm - 5.30pm
Location: Online (via Zoom)
 
There is an expectation for families to attend all sessions in group 2 to get the most out of this Nurture Yoga. Please note that by registering above you are signing up to all 6 sessions. The link you receive in your confirmation email will be valid for all sessions.


For general enquiries about this event, please email events@scottishautism.org