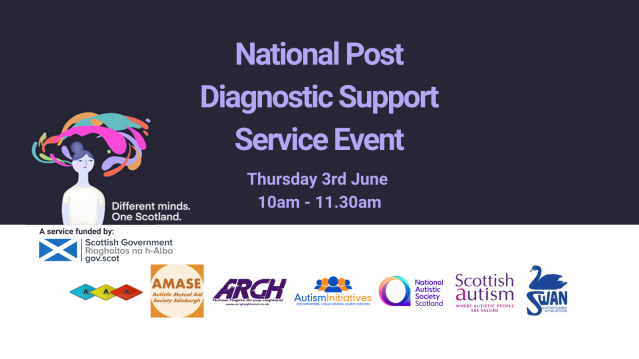 Did you miss our National Post Diagnostic Support Service Event on 3rd June?
If so, you can watch the on-demand version now.*
Register here to view the event
*The event link is valid until 3rd July & will expire after this time.

About the event

Have you heard about our new National Post Diagnostic Service? Have you or someone you know been diagnosed as autistic in the last two years?

Our National Post Diagnostic event on Thursday 3rd June gives you further insight into the support available within the service. Joined by our partner organisations National Autistic Society Scotland, Autism Initiatives Scotland and Autistic People's Organisations Autistic Mutual Aid Society Edinburgh (AMASE), Autism Rights Group Highland (ARGH), Triple A's (One Stop Shop Aberdeen) and the Scottish Women's Autism Network (SWAN). You can find more information about the support and services that are available through this service. 
Date
04th June 2021 to 03rd July 2021