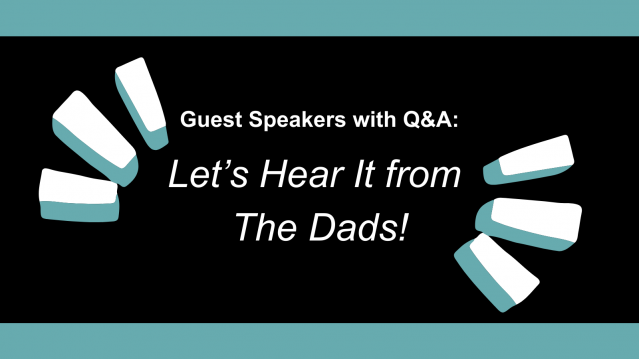 Calling all autistic Dads, Dads of autistic children and adults, anyone who identifies as a Dad or is in a father-figure/caring role.
We have seen a large increase in calls to our Advice Line from autistic fathers and fathers of autistic people.  In response we will be bringing together a panel of Dads to share their experiences and insights into fatherhood.  This will also include a Q&A where you will have the opportunity to ask the panel questions.
Join us for a morning chat with our fantastic panel of Dads and show your support for all the Dads out there. 
Stuart Cosgrove

Stuart Cosgrove is a writer and broadcaster with a range of award-winning books on soul music and social change. He presents BBC Scotland's popular football show 'Off the Ball' and is the father to the legendary Jack Cosgrove.  

 
Jonny Drury
Jonny is an autistic adult and parent of five and grandparent of two, based in Sheffield, England. He is a specialist autism dialogue facilitator, coach, mentor and trainer and created the Autism Dialogue Approach®, a holistic group method for alleviating negative impact in autistic people and families and improving knowledge and community cohesion.   He has PGCert Autism, PGCert Coaching and Mentoring, BA (Hons) Contemporary Fine Art and certificates in counselling and chaplaincy.  He works with individuals and in groups using an eclectic mix of transpersonal, Gestalt and non-duality coaching. He is a practitioner and guide of non-dual awareness and mindfulness, a coach for AT-Autism and Scottish Autism's Affinity project, and leader of the Mindful Autism Support Group for Scottish Autism.  He is a contributor to Autistica's Language and Communication Research Group and published a chapter 'Autism Dialogue' (Penwell & Garrett, 2019).

In the past, he devised and managed private education programmes with home-schooled children and refugees, was involved in storytelling and the arts and co-founded and ran an international health food company. He lived in a strict spiritual community for 20 years and has travelled extensively overland.  He is a painter, photographer, chi-gong practitioner and currently hosts a weekly online silent meditation session, which is open to all.

www.dialogica.uk | www.jonnydrury.com
Ash Loydon
Ash is an Autistic illustrator and sometime balloon twister, Dad to twin Autistic girls and a (fairly big) Autistic boy.
Scott McIntyre
Scott is the founding director of Vanilla Ink Jewellery School, a Community Interest Company (CIC) based in Glasgow's East End. A master goldsmith and stone setter, Scott has been creating beautiful, bespoke jewellery for over 26 years.
As a CIC, Vanilla Ink aims to use making as a form of therapy, working with the most vulnerable and disadvantaged in society for the greater good, using their skills to enhance people's lives. They have social equality, tolerance and justice at their core, striving to improve the lives of others through jewellery making.
His own son's autism diagnosis pointed towards his own path of discovery, which led to his ASD diagnosis in November 2017. Having always been open and honest with his mental health issues, Scott has now written about his experiences of living on the spectrum and worked alongside Scottish Autism on several occasions.
Scott often describes being autistic as "being a man with a fork in a world full of soup" and is vocal for the need for more acceptance and understanding towards neurodivergent people. He is skilled at masking and can't watch a film without knowing the ages of all the actors.
Date
18th June 2021 to 18th June 2021