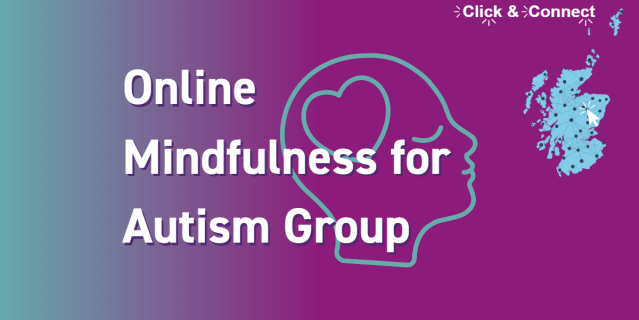 About the Group 
Mindfulness for Autism is a strengths-focused mindfulness approach that provides recovery and counteracts the negative sensory impact of the world for autistic adults and their carers. It also aims to reduce the impact of stress, isolation and fragmentation in autistic people and family members/carers of autistic people and aims to break this negative cycle, helping people to live a more self-aware, empowered and fulfilling life. There are 9, 1 hour weekly online Zoom sessions. Each session includes a presentation and a guided meditation on a theme and a facilitated Q&A / group dialogue.
Topics include:
Mindful communication

Sensory sensitivities

Mindfulness and emotions

Mindful relationships

Self-care and compassion

Masking and the authentic self
The facilitated group dialogue part of each session is important because thinking, experiences and stories are shared, in order to create a cohesive community of mindfulness friends. As experienced facilitators, we intuitively address the needs of participants in a semi-structured way, making our events a constructive setting for autistic people who normally find gatherings problematic.
The group will take place on Tuesdays from 18th April to 20th June from 10am - 11am (excluding 6th June). Each session will run via Zoom and are free to join.
Target Audience: Autistic individuals and family members of autistic people in Scotland (18+)
Group Host
Amina has been teaching Yoga and Meditation for 7 years and has a special focus on Diversity and Inclusion. She holds a
As a neurodivergent person, Amina is interested in exploring how Mindfulness can be adapted to accommodate anyone and everyone. She is also training as a Psychotherapist for Children and Young People to gain a deeper understanding of the kinds of challenges people face, and how to take a holistic approach in addressing them. In her spare time, Amina enjoys being in nature, doing creative activities, and researching topics of interest.
Date
20th June 2023 to 20th June 2023
How to book
General Enquiries
This is for Block 9 of the Online Mindfulness for Autism Group.
Time: 10am to 11am
Date: 20th June 2023
Location: Online
Cost: Free
Register
Please note when you register for the group you have the option to book all sessions in the block, alternatively you can pick and choose which sessions you would like to attend.
Maximum number of attendees: 20

Please email any queries to events@scottishautism.org