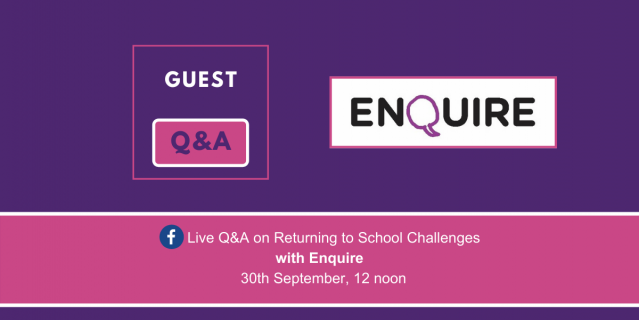 Scottish Autism's Advice Line and the Enquire Helpline have had a longstanding relationship in supporting children and families with a number of challenges, questions and concerns when accessing education. In this event we will be joined by colleagues from Enquire to discuss some of the challenges parents and children are facing as they return to school. The event will focus on the rights of parents and their children accessing school, as well as offering support and advice. Join us on 30th September where we will be here live to answer your questions.
About Enquire
Enquire can help you understand your child's rights to additional support for learning and how to work in partnership with their school to ensure your child gets the support they need.

 
Enquire helpline 0345 123 2303
Website www.enquire.org.uk
Cat Thomson
Cat Thomson, Communications and Engagement Manager has worked for Enquire for 12 years. Cat's role is creating strong partnerships with organisations working with and supporting children of additional support needs and their families. Cat leads on developing accessible advice and information about Additional Support for Learning and promoting Enquire to parents, carers, professionals, children and young people. Cat's particular interest is supporting families to work in partnership with schools so children have the support they need to get the most from school. Cat is herself a parent of a child with additional support for learning so brings first-hand experience of the importance of parents and schools working together.
Hannah Gray
Hannah is an Advice and Information Officer at Enquire – The Scottish Advice Service for Additional Support for Learning. She has worked on the Enquire helpline speaking to parents, carers and professionals supporting children with additional support needs for nearly 5 years. Previously she has worked with the Scottish Government in education policy and as an employment support worker for young adults with learning difficulties. For 3 years she chaired a young people's group at the Sick Children's Hospital in Edinburgh – where she did all her school exams and half her education from a hospital ward – so has her own wee bit of personal experience of additional support for learning!

Useful Resources
Inclusion, equality and wellbeing factsheet 
Additional support for learning – key facts factsheet 
NEW anxiety related autism infographic
Advice for parents section of the website including attendance and exclusion info
Date
30th September 2020 to 30th September 2020
How to book
General Enquiries
Join Cat and Hannah from Enquire on 30th September at 12pm over on our 
Facebook page
.