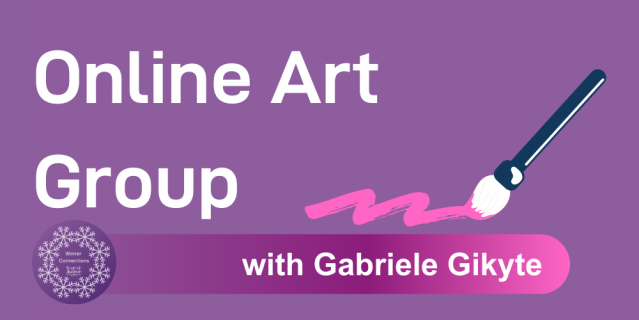 This group is now full. Come along to our online art group taking place every Wednesday until 31st March from 5pm until 6.30pm. Target Audience: This group is suitable for autistic people and their families in Scotland.
Please note this group is now full.
The weekly Art Group aims to bring people together for creative expression in an informal and safe environment. It offers the chance for a mindful break from the day's worries and can help to reduce stress.
The art group will be led by our talented Support Worker Gabriele Gikyte, who has an academic background in art and experience of running a Virtual Art Group in our services in Lothian. Each 1.5 hour session will explore an abstract but relevant theme which can act as guidance to start off the creative process. Attendees will be encouraged to view the theme through their own personal lens, brainstorming ideas and searching for ways to best depict their vision. 
Every technique is welcome, be it drawing, painting, photography, sculpture, textile or any other! The main focus of the Art Group is to allow artists to experience their creative processes with the help and feedback from the facilitator and peers, also just having a good chat with likeminded people! 
There will be no pressure to finish a task or fulfil a theme on the day or as homework and sharing your work is totally up to you. Gabriele will be able to provide tips and guidance with technical and conceptual questions. In each session attendees may use their favourite mediums or try something new with the help from the facilitator. Creatives are welcome to submit their finished or in progress pieces to our end of project reflective session, even if they do not wish to attend the online sessions! 
The first 5 themes we will explore are:
Here and Now 

Safe place 

Tomorrow 

The Senses (vision, hearing, touch, smell) 

Balance 
About Gabriele 


Gabriele Gikyte is a Support Worker in Outreach East Lothian and an independent artist from Lithuania. She finished her studies in the Vilnius Academy of Arts where she studied fine art and printmaking. Gabriele also studied Art Psychotherapy here in Scotland and has fundamental knowledge of photography, and is interested in a broad variety of art forms. A big part of Gabriele's academic life was working with the general public via conducting educational art workshops in schools, festivals and fairs. This gave her valuable experience of working with various groups of people by helping them to fulfil their artistic needs in a safe environment.  Even though she mostly works in traditional media, Gabriele encourages experimentation and exploration through all art. 
Gabriele has been running and facilitating a Virtual Art Club in East Lothian since April 2020, as well as providing staff and supported individuals with hand drawn colouring sheets for the sessions.  
 
Rules
Keep discussions civil

Do not be afraid to ask questions

Engagement is not compulsory
Technical
Join in as many sessions as you like, the more the better!

The sessions will run via Zoom, you will need a computer or device with good Wi-Fi.

Cameras and microphones are preferred but not compulsory.
This Art Group is part of our Winter Connections project to allow the autistic community to stay connected through the winter months. Being creative can be great for your wellbeing, and is a wonderful sensory experience that helps to focus the mind. Through art we can stay connected, even if we can't in person. If you find yourself alone or isolated during lockdown and want a way to connect with others then register and join the group. 
Date
03rd March 2021 to 03rd March 2021
How to book
General Enquiries
This group is now full
Time: 5pm to 6.30pm
Date: 3rd March 2021
Location: Online
Free

If you would like to share your artwork please email it to marketing@scottishautism.org.